Tech Trek Fresno was the second camp started as part of AAUW California's Tech Trek project in 1999. It is located at Fresno State University, in the heart of California's Central Valley and serves campers from across California.
All girls attend Tech Trek with sponsorships provided by local AAUW branch members, working with participating middle schools in their area. Potential campers must be nominated by a seventh grade math or science teacher and complete an extensive application process.
From life science to physics, robotics to electrical engineering, Tech Trek Fresno seeks to provide campers with a broad experience of STEM fields, particularly ones that may be unfamiliar. We supplement hands-on exposure to STEM with a focus on team building, leadership skills, and problem solving to create confident young women equipped with skills that will last them a lifetime. We seek to create a community of women excited about learning and create relationships that will last long after camp has ended.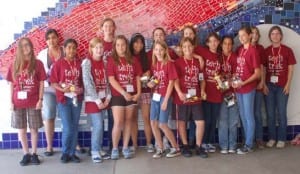 Previous classes have included Roller Coaster Physics, CSI, Art in Math, Bridge Building, Robotics, and App Inventor. We have taken trips to the Planetarium, the Fresno Zoo, the Challenger Center, and  the San Joaquin River. We spend an evening seeing physics in action at the bowling alley on campus and relax by the pool for an evening, making homemade ice cream.